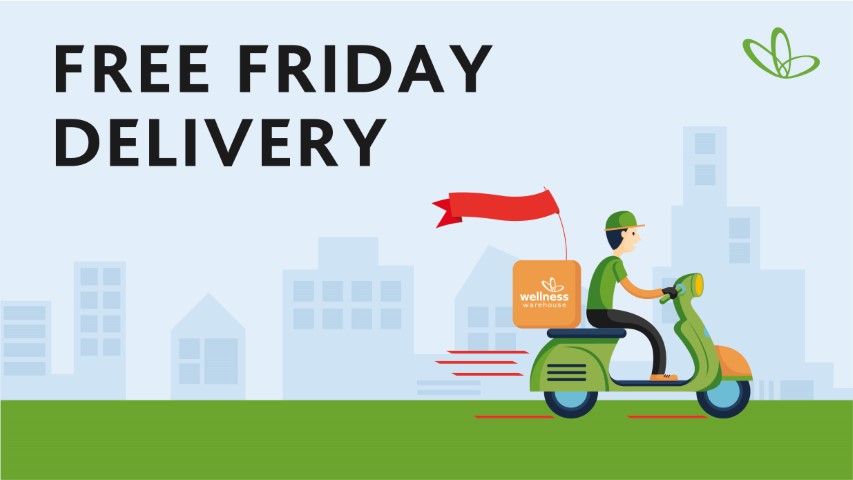 Terms and Conditions for the promotion entitled "Free Friday Delivery" conducted by Wellness Warehouse (Pty) Ltd.
This promotion will be available to any online customer who shops at www.wellnesswarehouse.com on the following dates from 00:01:01 to 23:59:59:

4 October 2019
11 October 2019
18 October 2019
25 October 2019

This promotion is limited to one order per customer per Friday.
Delivery refers to only the standard door-to-door delivery option for major city centres only. The service used is a courier service and the customer cannot choose to use any other service provider.
This promotion is not available for expedited deliveries.
The customer must select the free delivery option from the various delivery options available. Should the customer fail to select the free delivery option, this cannot be changed after the order has been placed. The free delivery option is not automatically applied at checkout.
Wellness Warehouse reserves the right to cancel delivery on orders where actual delivery costs are quoted above R 250 incl VAT. Alternative delivery methods such as Pargo (click and collect) are available as an alternative for orders over R 1000 including VAT.
Delivery address change for door-to-door can be requested by the customer by following the tracking link sent via email once the parcel has been dispatched. The change needs to be accepted by Wellness Warehouse online shop in order to be valid.
Wellness Warehouse reserves the right to cancel the promotion at any time without notice.
This free delivery promotion cannot be transferred, credited or refunded.
Refer to our Shipping and Delivery Terms on our website for more information on shipping and delivery.