Full House: Why Working Parents Deserve a Medal Right Now
Lockdown hasn't been easy for anybody, but wow – parents of young children are on a whole different playing field right now. It really seems like toddlers are on a mission to turn lockdown into the longest playtime in history, regardless of whether mummy and daddy are still working their 9 to 5. We chat to some of our Wellness parents to find out the highs and lows of lockdown life…
Worlds Colliding 
One of the biggest advantages of working in an office is that it allows us to separate work from home, so that we can focus on the task at hand – being a parent, or being an employee. With the lockdown combo of moving to remote work and the closure of schools and creches, compartmentalising becomes virtually impossible. Your child's constant questions about what you're doing on your laptop and their insistence on showing you every single one of their drawings (which all appear to be the same rainbow scribble) make it pretty hard to focus on writing that urgent report. And on the other hand, it can be really tough to truly enjoy bonding with your little one when you have a nagging to-do list in the back of your mind.
"A few days ago, I had one of those manic mornings of trying to breastfeed my newborn, make breakfast for my one-year-old, feed the dog, check emails, write a review, cook, bake, prepare activities and tidy up while tripping over toys scattered all over the house!" 
- Nicole Lupton (Wellness in the City), Wellness Ambassador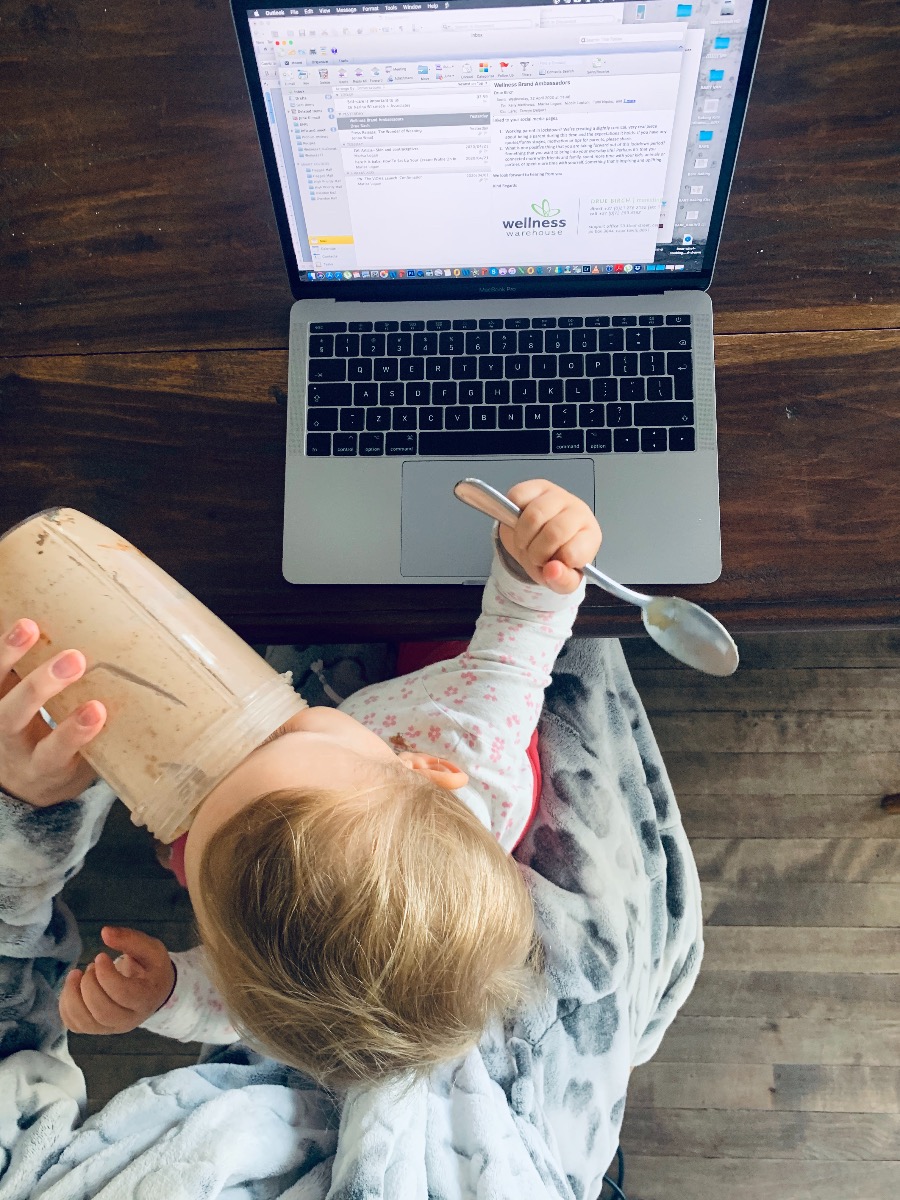 But there are certainly things to love about every day being take-your-child-to-work day! Seeing that precious little face pop up next to your desk has a way of putting an instant smile on your face, and melting away some of your work stress. After all, your child wants nothing more than to spend time with you and take you on all their little adventures. There will always be times when you have to say no to playtime, but try to treasure this special time – before you know it, you'll be back in the office and missing that little voice in your ear. 
"The other day I walked away from my home desk and returned to my little one decorating my laptop with small pink sweeties and giving me a naughty and cute little expression. A few days later I decided to give her my work notepad, pen and highlighter, along with a couple of her crayons – that way she could feel like she's at work with me while she's on the floor drawing me pictures!" 
- Belinda Knight, Wellness Warehouse Senior Planner – Body Care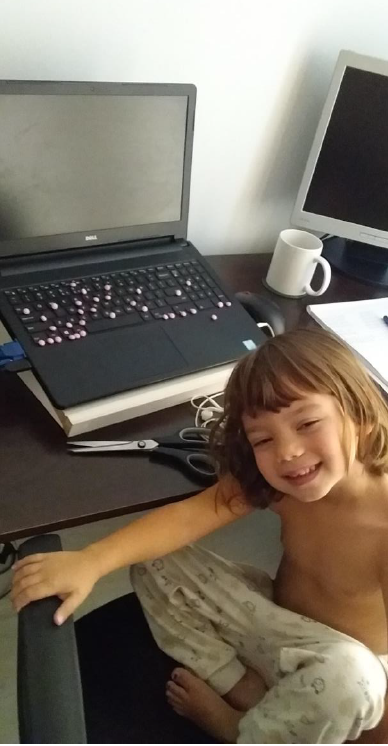 "I have found that when I am working while my toddler is awake, there is power in just pushing work aside and rolling around on the floor starting a tickle war. I fall in love with my daughter every day."
- Kelly Matthews (The Healthy Process), Wellness Ambassador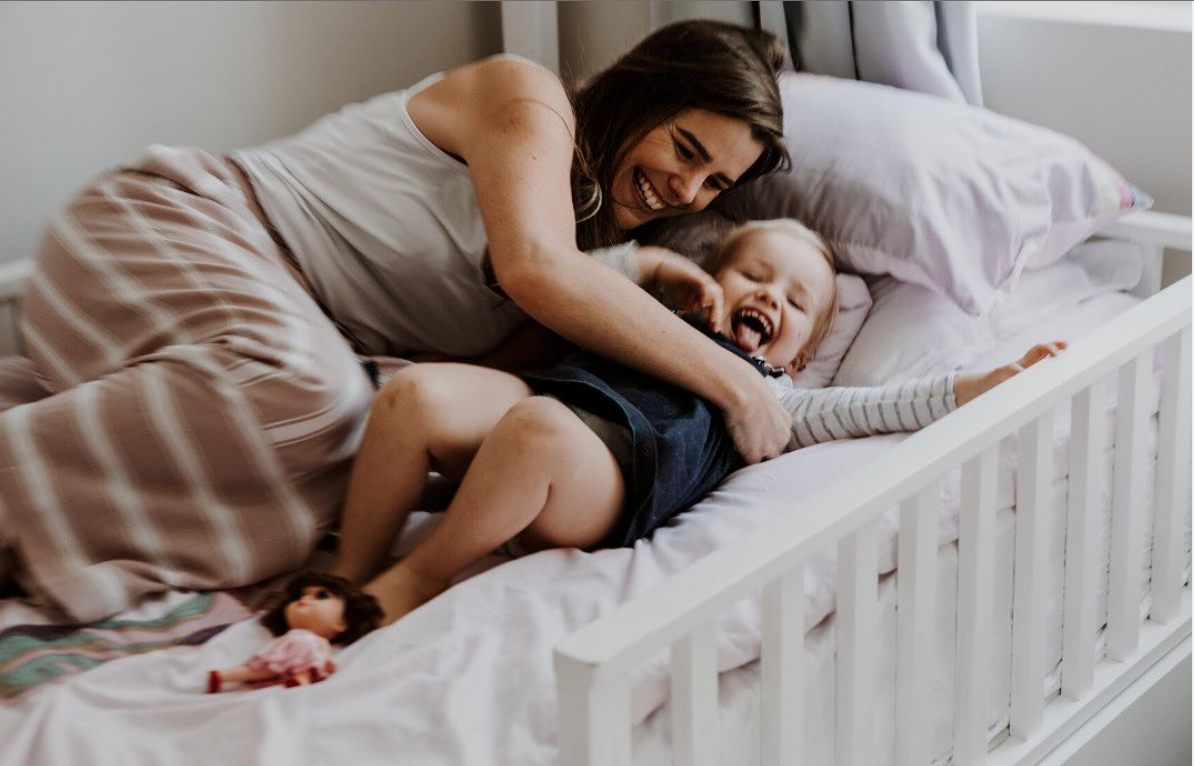 School is in Session
There's a reason we send our little tots off to school, and it's not to get some peace and quiet (although this is a definite perk) – parents need teachers to help kiddies learn new things, develop skills and get through those oh-so-important developmental stages. It's virtually impossible to work your usual hours AND run your very own at-home nursery school! On the plus side, you get to be there for all those special moments with your little one, and there is something very special about watching them grow and learn a little bit more about the world every day.
"This time has actually been quite productive, because we managed to toilet train our daughter! It has been amazing to do this as a family – we created a rewards chart and even made our own toilet song!"
- Kelly Matthews (The Healthy Process), Wellness Ambassador
Another perk of school is that your little bean gets to make friends with all the other little beans and enjoy lots of playtime. Being stuck at home means that your child is probably missing friends and the school playground. The result is that you have to be the new break-time buddy, which isn't easy when you're working full time.
"Younger children don't fully understand the gravity of the current lockdown situation, and they can't comprehend why mom or dad (or both) can't play right now. Especially if you have an only child, he or she will get lonely stuck in the house and not seeing friends for five weeks on end." 
- Stiaan Kuhn, Wellness Warehouse Supply Chain Manager
On the bright side, you get to see just how clever and imaginative your little one is, and you have the unique opportunity to turn into a toddler again!
"My daughter, who is now five, comes up with the most inventive, original games. Her latest is that we (her and I) are two old ladies. Cue her hunching over walking slowly and talking like granny and expecting me to do the same. My character's name is Janice and hers is Rita. If this lockdown has taught me one thing, it is that time is precious, and that time, how little it may be, is priceless and means the world to your child. It always brings a smile to my face and lightens the mood when I have to be 'Janice'.
- Stiaan Kuhn, Wellness Warehouse Supply Chain Manager
Goodbye Me-Time, Hello We-Time
While some have been able to use lockdown as a time to pursue personal projects and goals that they wouldn't usually have time for, it seems like there is less time in the day for working parents. 
"I laugh at my to-do list when lockdown first started. I was very ambitious and thought I would have soooooo much time to finally get to work projects I haven't been able to focus on yet. Boy was I wrong."
- Kelly Matthews (The Healthy Process), Wellness Brand Ambassador
However, while lockdown may have taken away some me-time, it has certainly made room for so much more family time.
"For me, the most positive thing to come out of this lockdown is having my husband here with us – he is a pilot and usually away the whole week and only home on weekends, but now he has time to hang with the kids, get creative in the kitchen and keep us all entertained – he's actually quite a funny guy!"
- Nicole Lupton (Wellness in the City), Wellness Ambassador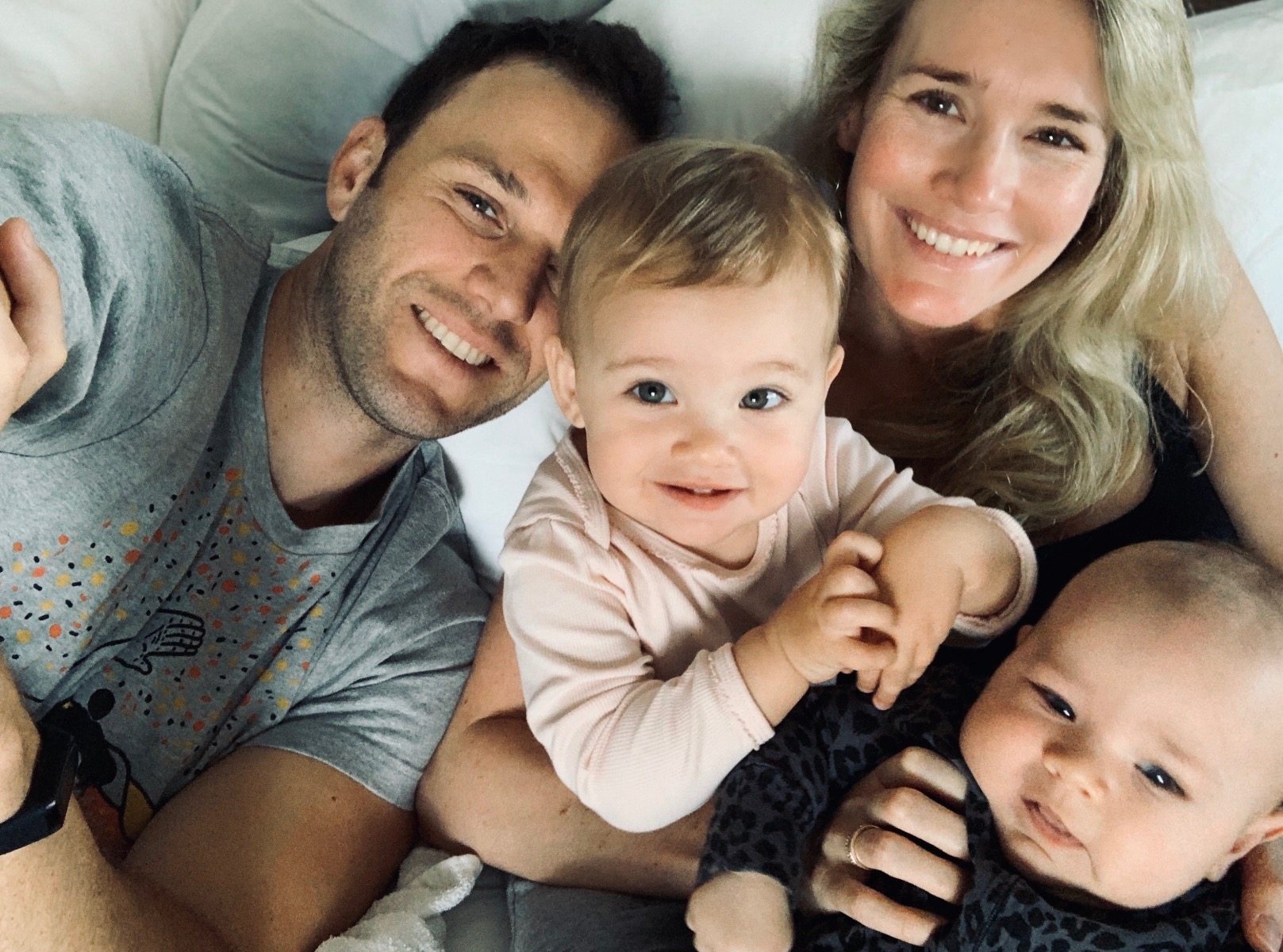 "My situation is a bit different because my son is just a little bit older than a toddler, at 21 years old! He is studying at Stellenbosch University, but is spending lockdown with us. We have missed him terribly while he's been studying over the past three years, and it is actually wonderful to spend such a long time with him. What I enjoy most is that he perpetually hovers in front of the fridge with the door ajar, looking for something to snack on. It reminds me of when he was a ravenous teenager – then it drove me mad as the fridge was always eaten empty, but now it is such a joy just to have him with us, I don't mind at all."
- Sonja Hindley, Wellness Warehouse National Training Manager
To all the parents out there – you are magnificent. Times may be tough and you might feel that you just can't balance it all, but we promise you that you are stronger than you know, and you CAN do this.
Keep your head up, and keep your family close. You've got this.