Online Promotional Terms and Guidelines
1.

Receive FREE delivery and a selection of complementary samples with every online order this week only! Select your freebies at checkout.
Terms and conditions: Free delivery will be applied to all online orders placed on and between Monday, January 17th 2022 and Monday, January 24th 2022. The customers must be logged into their Wellness Warehouse online account to receive this offer.
2. R 100 off your first order!
Here's how to receive R100 off your first online order of R500 or more at www.wellnesswarehouse.com
In order to qualify:
1. You must sign in to your Wellness Warehouse account. If you do not have an account yet, you can create one here. 
2. You must be placing your first online order with Wellness Warehouse. The voucher code will not work if you have place one or more orders with us historically. 
3. Your order total before applying the WELCOME2WELLNESS voucher must be at least R500 (including VAT). 
4. You must apply the voucher code WELCOME2WELLNESS on the shopping cart summary page, before you reach the payment phase of your purchase. 
Here is a quick visual guide to receiving R100 off on your first online order with Wellness Warehouse:
Step 1: Select the View and Edit Cart option from the shopping cart dropdown menu, or visit the shopping cart summary page directly.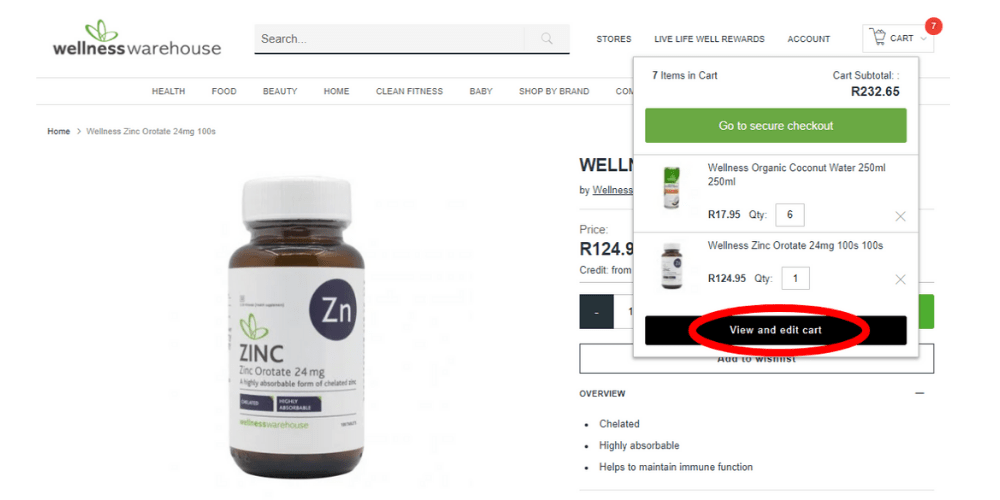 Step 2: open up the "do you have a discount code" tab underneath your Order Total Summary (making sure that your order total is a minimum of R500.00.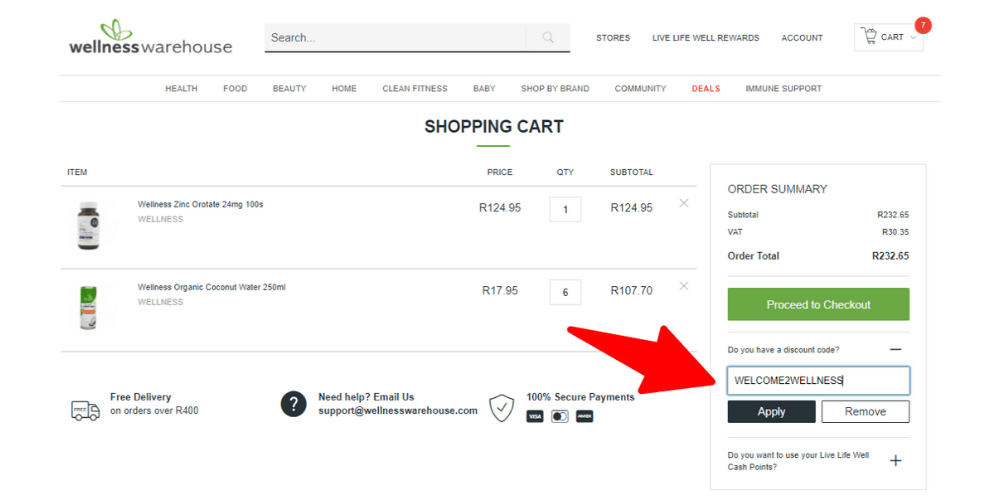 Please note: the voucher is not redeemable for cash, and will only apply successfully if the conditions above are met. 
Terms and Conditions apply to the promotion entitled "R100 off your first online order with code WELCOME2WELLNESS" conducted by Wellness Warehouse (Pty) Ltd.
This promotion will be available to qualifying customers ordering online at www.wellnesswarehouse.com  
Should you have issues ordering online or complaints, please contact [email protected] for assistance. 
Goods may be returned according to our standard returns and refunds policy.
Wellness Warehouse reserves the right to cancel this promotion at any given time, without prior notice.